Model #11068942890 KENMORE Residential Dryer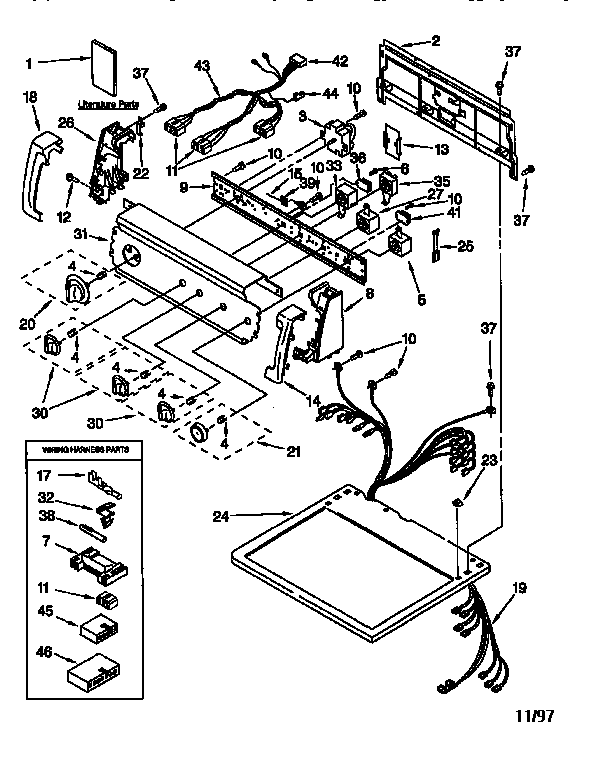 Error Codes
Error Code:
Condition:
Check/Repair:
Question and Answers
Q:
Why won't my Kenmore dryer start?
A:
Hold the push-to-start switch down for a couple of seconds to see if the dryer motor will run when this button is held down. If it does, then you likely have a failed motor relay or a failed Evenheat electronic control board. The following link of a previous answer describes troubleshooting for this type of problem: What could cause my Kenmore model 11060972990 dryer to stop running when I release the start button? To access the console in your model of dryer, unplug the unit and remove the plastic end cap from each side of the console. Remove the screw that you will find under each end cap that secures the console to the top dryer panel. Pull the console slightly forward and then hinge it up and back over the top of the back dryer panel.
Check to see if the interior drum light turns on when the dryer door is opened. If not, check to see if the bulb is burned out (with the dryer unplugged). If the bulb is good and the light won't turn on when the door is opened, then you likely have a failed door switch that is preventing your dryer from running.
If the interior light is okay, you could have a broken drive belt or a blown thermal fuse. You would likely hear the click of the motor relay energizing the drive motor circuit if one of these components is bad. To check these components, unplug the dryer and remove the bottom front service panel. The following link shows how to remove this panel: How do I remove the bottom panel from the dryer to clean behind it? With the bottom front service panel removed, you can see if the drive belt is broken. If not, I recommend checking the thermal fuse. The following link of a previous answer describes how to access and test this fuse: Where is the thermal fuse in my Kenmore Elite dryer model 110.64942300?
Your dryer has a different control system than the dryer in the above previous answer. The thermal fuse is in the same place. If the thermal fuse is bad, you can order a new one from the Sears PartsDirect website. The part number for your model is 3390719. NOTE: If the thermal fuse is blown in your dryer, check the exhaust venting for a restriction. Wash the lint screen with water and dry it thoroughly to remove any residue that may have accumulated from dryer softening sheets if you use them. This would prevent the thermal fuse from blowing again shortly after you replace it.
If the thermal fuse and belt are both okay, you could have a motor failure or a wiring problem in the motor circuit.
If you need more help, resubmit your question with additional details.
Read More
Lyle W -
Sears Technician
Recommended maintenance parts & accessories