Model #10651069100 KENMORE Side-by-Side Refrigerator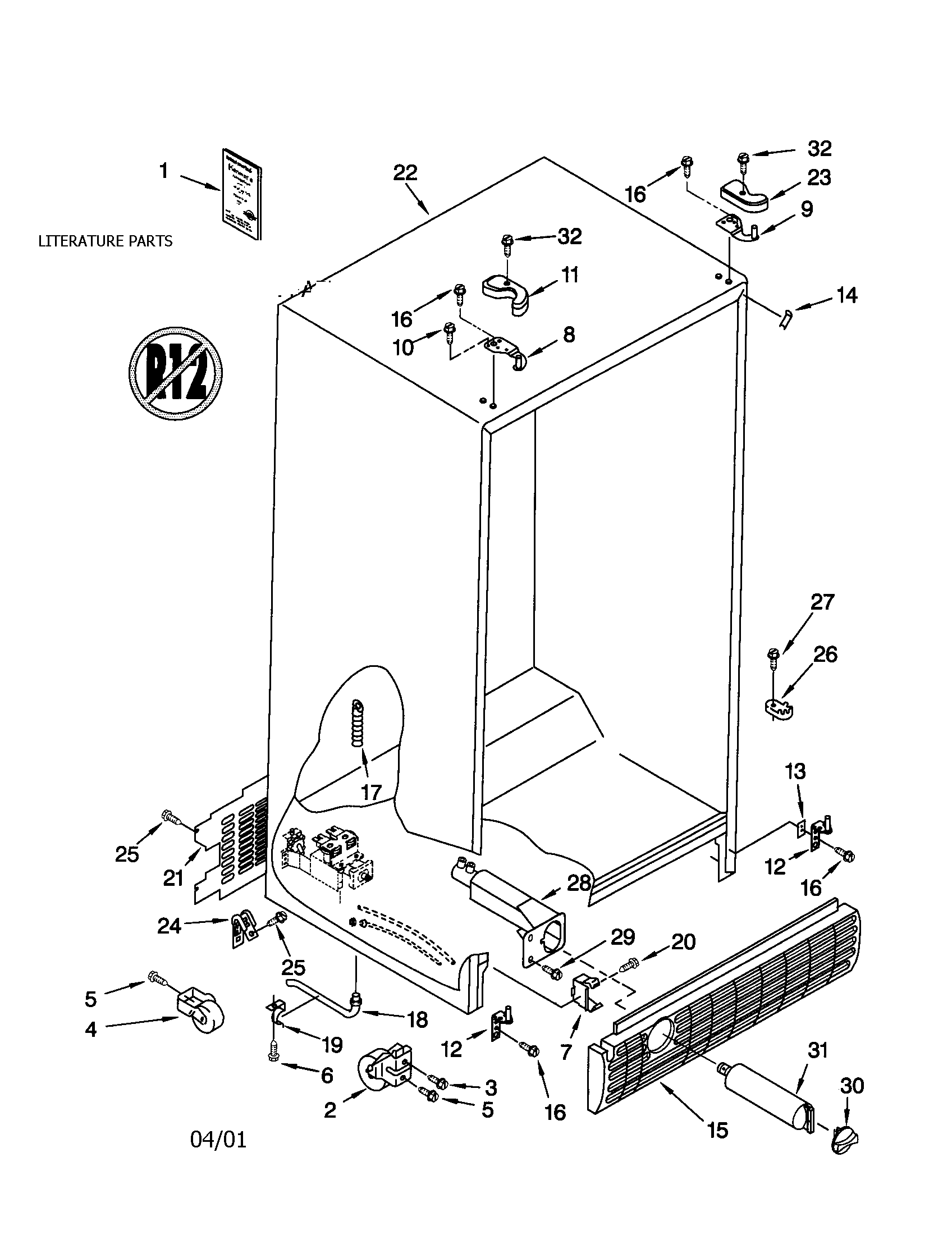 Error Codes
Error Code:
Condition:
Check/Repair:
Question and Answers
Q:
Why does my refrigerator dispense water without the dispenser being depressed?
A:
The new water inlet valve could be defected, but most likely the micro switch (key number 14, see image below) controlling the water flow is bad. I would begin by replacing the switch, or if you have a volt/ohm meter you can ohm the inlet valve. It should read approximately 800 Ohms, if not the inlet valve needs to be replaced.
I have included a link for parts purchases; please click the following Sears Parts Direct . The micro switch is part number 2162361.
If you require further assistance please resubmit question with details of the checks you have made. I will be looking forward to helping you again in the near future.
Read More
Landell -
Sears Technician
February 01, 2010
Q:
What is causing a smell in the ice bucket?
A:
This is generally caused from the air flow. What happens is the air that is moving throughout the refrigerator and the freezer, is the same air that is blown directly on the ice. As the air flows through the refrigerator, it can and will pick up, any and all odors. Now the air has an odor and is being blown directly on the ice cubes. The ice cubes absorb the odor and also the bucket. To eliminate this, you will need to remove everything in the refrigerator and clean it out. First turn the unit off or disconnect the power. Use warm water and a mild detergent to clean it and also make sure all items are sealed properly. If you need more assistance, you can resubmit your question with more details.
Read More
Scott D -
Sears Technician
November 24, 2009
Q:
How do I fix the water dispenser on my side by side fridge?
A:
If the valve is humming when the water lever is pushed, it does indicate that it's getting energized. It can be checked by disconnecting the water line on the back side of it that goes to the reservoir. To do this first disconnect power to the refrigerator and shut the main water supply valve to the refrigerator off. Now remove the water valve, so you can disconnect the water line on the back side, going to the reservoir. This should be the larger water tube. Now turn the water back on and reconnect power to the unit. Activate the dispenser lever and if no water comes out of the valve but it still hums, the valve # 4389177 will need to be replaced. If water does come out, the problem could be a frozen reservoir or the water line in the door could be frozen. If you need more assistance, you can resubmit your question with more details.
Read More
Scott D -
Sears Technician
October 26, 2009